Directed By:
Tony Zarindast

Starring:
Richard Lynch and Joe Estevez

Rated R
Genre: Horror
Format Used: Netflix DVD
Contains: Graphic Lanuage, Graphic Violence, Sexual Content
Also Known As:
Arizona Werewolf
THE PLOT:
Archiologist discover the bones of a creature half man and half. A fight breatks out between two workers and the skull of the beast is used as a weapon, the victim is named Tommy and is infected with lycantropy and transforms into a werewolf.

Tommy is killed but the twist Yuri wants to know if that was just a fluke. So arranges a test, but having a guard prick himself. The gaurd also transforms and crashes because werewolves can't drive.

Finally during a fight with Paul Yuri uses the skull again to wound him and now Paul is transforming to a werewolf. Local legends call the skeleton a skinwalker but Paul feels more like howling at the moon.
ZEDD'S OPINION:
Where to start. Skinwalkers are not the same as werewolves, the only thing they have in common is transforming. But Skinwalkers can control when and what they transform into. Werewolves change due to the full moon. Besides, either way, skin walker or werewolf, they whole skeleton doesn't make any sense. The person who decayed into a skeleton would have transformed back into his or her human form. Now let's talk about werewolf "effects" and I use the term loosely. This kind of WOLFMAN effects is no long welcomed in movies, it was barely forgivable in the 1970s. It's 1996, trivia reads that the stars had to do their own stunts due to budget and what the hell was that budget around ten grand? Joe Estevez I can understand him being in this loser, his career never took off, but Richard Lynch, why the hell was he in this gobbler. I give this turkey of 1996 THE THANKSGIVING TURKEY.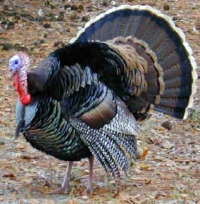 VOLTRON'S OPINION:
I couldn't argee more. What a waste of time this was, that's time I'm never going to get back. I pity Richard Lynch, he has to live with this on his resume for the rest of his life. I just had to watch it. The concept, the effects, the characters were all bad. I too give it a THANKSGIVING TURKEY.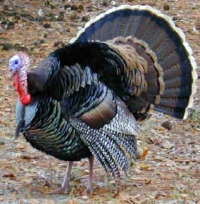 ON THE POSITIVE SIDE (+ HITS):
+ RICHARD LYNCH AND JOE ESTEVEZ (Two good actor in a otherwise crap flick.)
ON THE NEGATIVE SIDE (- MISSES):
- WEREWOLF NOT SKINWALKER (There is a major difference between werewolves and skinwalkers.)
- SKELETON (If werewolves and skinwalkers didn't change back after death they'd be proof they exist.)
- CHARACTERS (The characters are poor at best.)
- EFFECTS (This kind of werewolf dog faced boy stopped working after HOWLING.)
...AND FINALLY TWO WORDS...
- CLIMAX (Paul turns his girlfriend into a werewolf.)