Directed By:
Brad F. Grinter
Steve Hawkes

Rated R
Genre: Horror
Format Used: Netflix DVD
Contains: Mild Language, Graphic Violence, Drug Use
Also Known As:
Blood Freaks

THE PLOT:
Herschell was a biker who chooses to help a woman with a flat tire. She decides to reward him by taking him to a big drug party. (Some reward) where he meets another woman, he follows her to her father's turkey farm where he's doing research on how to build the better turkey.

This is where things go such, Herschell gets addicted to pills at that party and gets a job test tasting the new turkeys. The hormones of the turkey has a odd reaction to the illegal drugs in his system and he stats have a reaction. The doctor's assistant fearing a police investigation dumps the body in the woods where he has a strange transformation.

Herschell mutates into a monster part man and part turkey. This Manturkey does on a killing spree among drug dealers and what happens next you wouldn't believe.
ZEDD'S OPINION:
I couldn't tell if there was an anti-drug message in this movie or not. If there was they hid it well. In fact I think this movie played out too much like an afternoon special at least until it got to the turkey monster which it took it's time doing. But when it finally did it was somewhat interesting. But that leads to the next probably, that cheesy mask, it was just awful. Plus, it was just a mask. If it was me, I would have made his hands look like turkey feet. There is a unforeseeable twist at the end, but it wasn't enough to give it a good review, I think this turkey should just get stuffed. THE TURKEY!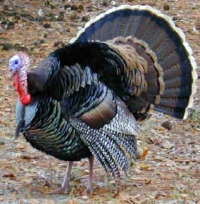 VOLTRON'S OPINION:
I couldn't agree more, it takes too long to get going and when it finally gets there it wasn't worth the ride. I gave this thing up half way through because nothing was happening. I think the writer and director was really addicted to drugs. They had to be on something to think this crap festival would make money. THE TURKEY as well.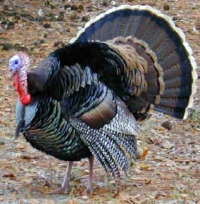 ON THE POSITIVE SIDE (+ HITS):
+ TWIST (There was an unforeseeable twist near the end.)
ON THE NEGATIVE SIDE (- MISSES):
- TURKEY DESIGN (The eyes don't move and the hands didn't look like turkey's feet.)
- SLOW (That would be an understatement.)
- DRUGS (They spend too much time on the whole drug thing.)
...AND FINALLY...
- MESSAGE? (I can't say if there was a message about drugs in this movie or not?)