Directed By:
Brad Sykes

Rated R
Genre: Slasher Horror
Format Used: Netflix DVD
Contains: Graphic Language, Graphic Violence, Nudity, Graphic Sexual Content

THE PLOT:
Campers are terrorized by a legendary serial killer who dresses up in a clown mask. No one is safe while this clown faced menace is on the loose. But the Police is powerless and seem not to care.

One by one the teenagers fall to the blade of the madman, the question is can any of them escape alive?
ZEDD'S OPINION:
Crap isn't harsh enough word. But I can't say how I really feel about this pile of steaming dung. Where to begin. The film quality, there isn't any. I've seen clearer pictures on America's FUNNIEST HOME VIDEOS! The acting is substandard, the gore effects is okay. The clown mask is the best part of this movie, the story is repetitive. The same thing over and over again. At least in a Friday THE 13TH or HALLOWEEN we stick with one main character for the most part. There is no main characters, just victims. Man, now we come to the worst part of all. The final survivor kills the clown and finds out it was one of her friends. Then when the police finally arrive, they don't believe her and she is locked up in a rubber room. What kind of ending do you call that, crap, that's what. In my opinion, there is no excuse for a bad ending in a horror movie, that was just sloppy writing. The excuse, "It has to ending badly, it's a horror movie." or "We need to end it badly to leave it open to a sequel" are just lame excuses and that is all. I must give the CAMP BLOOD the THANKSGIVING TURKEY.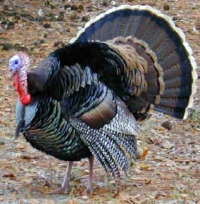 VOLTRON'S OPINION:
I couldn't agree more. I'd like to say that the characters were poorly written and two dimensional. But I can't, calling these characters two dimensional would be giving too much depth. Makes you wonder if there is a number lower then 1 dimensional? These are the kind of horror movies that gives all horror movies a bad name and why TV stations think HORROR is a dirty word and call horror series like BUFFY and SUPERNATURAL dramas, when indeed they are horror. I give this steaming pile of horse s*** The THANKSGIVING TURKEY.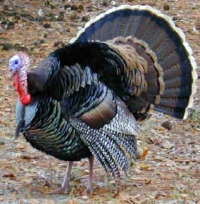 ON THE POSITIVE SIDE (+ HITS):
+ CLOWN MASK (We both got to admit, the Clown mask is kind of scary.)
+ GORE EFFECTS (We both thought the gore effects were done well.)
ON THE NEGATIVE SIDE (- MISSES):
- CHARACTERS (Calling these characters 2-D is an insult to characters that are 2-D.)
- FILM QUALITY (Makes you wonder what company they used, plain wrap?)
- SOUND (Like it was recorded on barb wire.)
- REPEDITIVE (Same thing happens over and over again. Clown finds victim, kills same.)
...AND FINALLY...
- CLIMAX (The climax of the film find the only survivor in a rubber room going crazy for the sequel.)