Directed By:
Jay Woelfel

Rated R
Genre: Horror
Format Used: Netflix DVD
Contains: Graphic Lanuage, Graphic Violence, Sexual Content
THE PLOT:
James and his friends are to meet in the woods for some fun. But while James and his girlfriend wait for their friends to arrive. James decides to explore a new cave he discovered. Bad idea as James is possessed by the spoirt by the demon Gladiator Tyranus.

Now Tyranus is on a quest to kill all intruders, which includes all of James' friends. But what is Tyranus up to, as he collects body parts and places them in a pot.
ZEDD'S OPINION:
I mean really, how could Charles Band the head of Full Moon let a total stink-ball like DEMONICUS out. I mean it should never got the green light to begin with. The story is repetitive, the characters are weak at best, there is no real story on Tyranus other then he's a bad dude. Then they writer or director goes out his way for a bad ending. That's right a bad ending, Demonicus rises. The last survivor escapes a deadly cave in, then a picture of Chimera comes to life, cheaply I might add and chases her out. Then as she is walking home ala FUNHOUSE. A statue that has been destroyed centuries ago reappears for no reason just to collapse on top of her. I mean, that makes no sense. What the hell was Charles thinking allowing this pile of puke to be made, with four different movie companies they were that desperate for movies. They could have asked me, I had better ideas then DEMONICUS. THANKSGIVING TURKEY.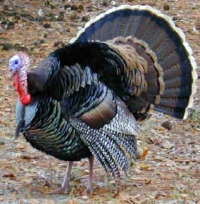 VOLTRON'S OPINION:
That's still being generous, but the score I want to give it isn't on the chart, my dog leaves it on the lawn every night. I can't stand bad endings and this movie went out of his way to make it a bad ending, that's even more agrovating. The person responsible should be hung upside down, dipped in honey and staked over an ant hill, fire ants at that. I give it the THANKSGIVING TURKEY, because I can't give it what it truly deserves.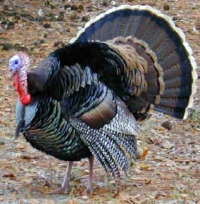 ON THE POSITIVE SIDE (+ HITS):
+ GORE EFFECTS (It does have some good gore effects.)
ON THE NEGATIVE SIDE (- MISSES):
- DEMONICUS (That's a dumb and unrealistic name to start out with.)
- CHARACTERS (Shallow and unappealing.)
- WHY (Why did Demonicus get in that cave and why was he so evil?)
- CHARLES BAND WHY (Why did you allow this turkey? WHY?)
...AND FINALLY...
- CLIMAX (When you make a statue that was destroyed over 2,000 years ago reappear, just to collapse on the last survivor. Then you are going out of your way for a bad ending.)